One applies for this type of resident visa by filling out the MEU2 form. They issue it for five years and may extend it after. One may receive a yellow slip at the Migration Department in Nicosia. The procedure takes 3-5 months at best. But after submitting the documents, the applicant can leave the country, re-enter, and work. Non-EU citizens apply for a yellow slip in case of marriage to a Cypriot citizen, an EU citizen, or if one gets a job or starts a company on the island.
You can book an appointment for the submission of the documents by the link:
https://crmd.simplybook.pro/v2/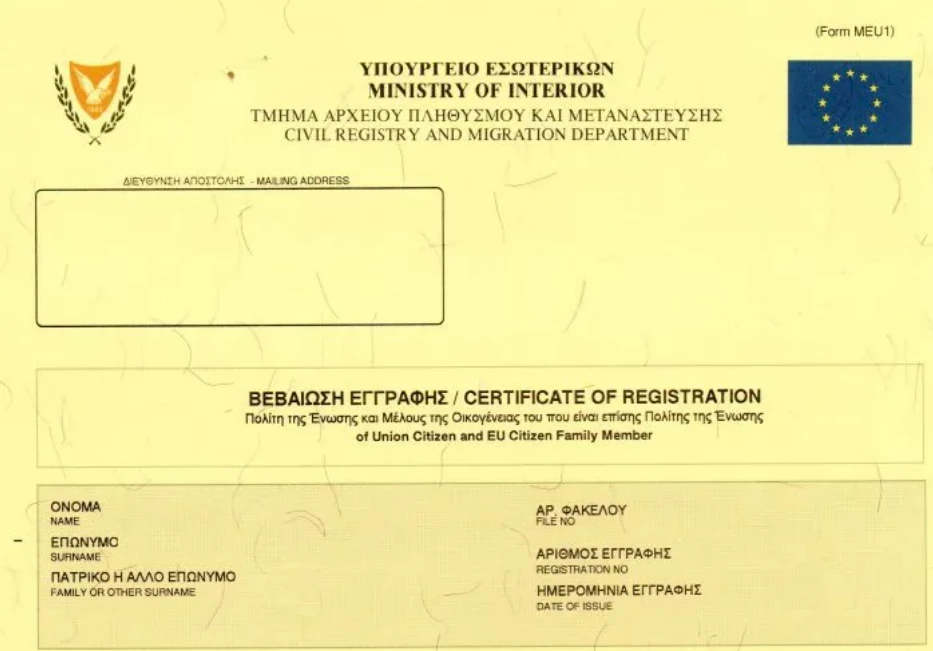 Remember, one should book an appointment well in advance. The queue sometimes stretches for several months.
List of documents to apply for a yellow slip:
A passport;
A marriage certificate;
Certificate/s of the birth of the child/children;
A letter of confirmation from the employer;
An international medical insurance;
A housing lease agreement for at least a year, certified by the Tax Inspectorate; a document confirming that you own real estate; in the case of marriage, a document guaranteeing your residence at a specific address;
A police clearance certificate;
Registration of social insurance and a certificate of annual income;
Your employer in Cyprus must sign the form;
An account statement from any bank in Cyprus or abroad;
A confirmation of university enrollment for students;
Two photographs - 3 by 4 cm.
All documents must be translated into English with an Apostille and certified by the Ministry of Foreign Affairs and the Embassy of Cyprus in your country.
The application fee is 20€, but the price is subject to change, so you should double-check on the website of the Migration Department.
If you move in because of work and your employer is in Cyprus, then, as a rule, the company's lawyers shape all the necessary documents for applying for a yellow slip.